Do you remember the bad old days when one had to pay a monthly subscription called service fee, then had to buy airtime to keep their simcard active on the network and on top of that, being overcharged per minute or per second depending on what plan you subscribed to?. Now, this is coming to an end with many players joining the telecom industry in Uganda. The game has shifted from not only paying a monthly service fee to almost making calls to peer contacts (on the same network) for free. So, in this article, let talks about MTN Uganda slashing its prices on data packages, people's reaction and how this is going to be a game changer.
In Brief:
If you can't take a five-minute read through this article, here is a brief for you.
1. First, I share about the journey for Ugandans to have a relatively pocket-friendly internet service provider.
2. Share about the cheapest ISPs even after MTN slashing its prices on data packages. (still, doesn't qualify on the list)
3. I bring you people's reaction from social media.
Enjoy the full read.
Background
There is a big battle in the telecom space in Uganda and since it kickstarted, it's been amazing for us end users. At the moment, the big talk in the city is not about social bundles, gagaa Wednesdays, or don't be cheated Wednesdays but now the newly reduced prices for data packages from one of the leading internet service provider in the country.
The point here is, every telecom wants you to subscribe to their network by just trapping you with one offer then, they start bombarding you with promo messages for this and that services. I have actually written a guide on how to unsubscribe to these unsolicited messages from such telecom promos just incase you fall prey.
How Cheap Could Internet Get?
Anyhow, the rates are reducing and am super excited and many other Ugandans though, the data rates should be cheaper.  Why?, in a country like Austria where I have been, one pays a monthly fee of  20 Euros an equivalent of UGX 85,000 for an internet connection at home. On the same network, you are able to connect upto 7 devices running on 4G. I think you can now imagine. Actually, a few days ago, I had a chat with a friend by name Isaac a network engineer working with a Google-affiliated company in Uganda responsible for laying fibre network connections and he was in full support of the fact that internet rates have to get cheaper due to that fact that ISPs no longer have to build physical internet connections in terms of laying cables underground and running them throughout the whole country. This challenge has now already been solved by Google and both new and existing ISPs could connect to this fiber network hence reducing costs tremendously.
So, its getting interesting, in Uganda, we now have Internet service providers offer packages at a relatively pocket-friendly price. Am sorry to mention that MTN isn't yet on this list. ISPs like Tangerine telecom, Roke telecom, and Smart telecom are so far the cheapest considering daily and monthly packages to single and for home users. If you wish to see their packages, kindly read my review on the cheapest internet service providers in Uganda. However, like I always do, giving credit where due, MTN, Airtel, and Africell so far have the widest coverage in  Uganda as far as network infrastructure is concerned. And if you wished to travel up country, you would have to get yourself a pricey package from any of the three ISP (MTN, Airtel, and Africell) but of course with a stable network connection. If not that, I would stick to the other three ISPs mentioned earlier (Tangerine, Smart and Roke telecom).
MTN Uganda Slashes Prices of Data Packages
Just of recent, on the 20th of February, MTN through CEO Mr. Wim Vanhelleputte, slashed prices of data packages like crazy to almost beating the cheapest ISPs earlier mentioned in the review (that's why I highly recommend that you read it) and this made rounds on social media.
Graphic – MTN Uganda Newly Reduced Prices On Data Packages and Increase In Volume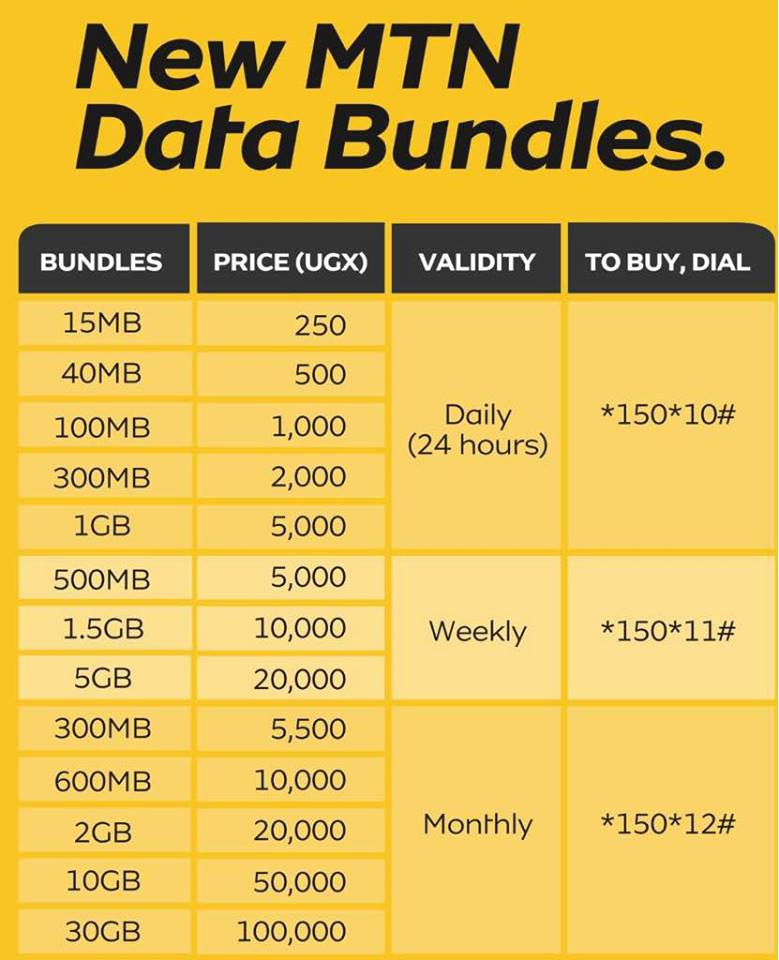 Another catch is there promo dubbed #MTNPulse where all daily Data bundles are UGX 1000.
1. Get; 300MB SWIFT for UGX 1000 valid for 24 hours
2. 50MB + 200MB SWIFT for UGX 1000 valid for 24 hours
3. 100MB + 100MB SWIFT for UGX 1000 valid for 24 hours
4. 150MB for UGX 1000 valid for 24 hours.
To subscribe to any of this a daily data package, Grab your mobile and press *157# to join & activate.
People's Reaction
Interested in People's Reaction?  Here are peoples reaction from social media on the price reduction of data packages
Please, I have shared feeds from some of the most authentic sources/pages. The views expressed are not part of GO Tech UG but are solely owned by the authors themselves.
Facebook Feed
Tweets
Here Is My Pick,
Despite the fact that MTN has not officially declared the interest speeds of the newly announced data packages, the 30 GB for a month took me by surprise at a relatively low rate. If you're a daily internet user for personal, home or small office, it is not a bad deal especially if you are out of Kampala. However, I am still yet to find out from MTN Uganda the exact internet speeds attached to this package and the total number of devices that could be connected. Though, the unofficial info I got was that all the packages are 4G LTE enabled.
In Closing
If you think I left out something and you wish to contribute towards making this article and blog better, please drop your comment in the comment box below or drop me a line via mail. I will be greatly happy. Also, note that I am NOT paid or influenced to write this article, these are personal views shared.
Note: This article will be updated everytime these data plans are changed by the ISP to keep it up-to-date. To not miss out on every update, bookmark this tab, or simply subscribe to my list and I will definitely drop you a line whenever there is a change.